ONS Foundation Kicks off Benefit Golf Outing with Donor's Event at Miller Motorcars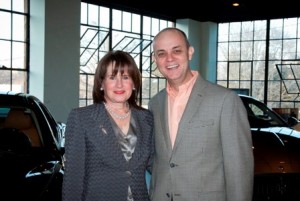 At a recent donors' event and kick off for the ONS Foundation Golf Outing held at Miller Motorcars on West Putnam Avenue, co-chairs Vicki Leeds Tananbaum and Michael Clain, MD unveiled the architectural drawings for the soon to be constructed ONS Foundation laboratory for arthroscopy, surgical skills and biomechanics. Funds to build the state-of-the-art facility were raised at last year's golf outing held at Winged Foot Golf Club. This year, on Monday, June 13, the ONS Foundation for Clinical Research and Education in conjunction with Greenwich Hospital will hold the 3rd Annual ONS Foundation Golf Outing at The Stanwich Club on North Street. ONS Foundation vice president Vicki Leeds Tananbaum and orthopedic surgeon Dr. Michael R. Clain will return as co-chairs for the event. In keeping with the continuing theme of the annual event, Linking Knowledge to Motion, proceeds from this year's event will support clinical research.
"With people striving to maintain a high activity level throughout their lives, the incidence of shoulder rotator cuff tears requiring surgery is on the rise," said ONS Foundation President and Founder Paul Sethi, MD. "Proceeds from this year's outing will go towards a clinical study to identify factors that enhance or inhibit healing. Patient outcomes will be evaluated, validated and the results will be shared with the medical community. The study proposal has been approved by the Greenwich Hospital Institutional Review Board. The research will be utilized to improve patient treatment and healing rates of rotator cuff surgeries."
The outing committee has planned an exciting day of golf and other activities, beginning with registration and warm-up at 11 a.m. At 11:30 a.m., a lunch buffet will be served on the clubhouse terrace followed by the tournament shotgun start at 12:45 p.m. Afterwards, golfers and other guests will attend a festive cocktail reception featuring a silent auction chaired by Sandy Hart and Nat Barnum that will feature an array of tempting fashion and travel-related packages. A dinner buffet and presentation of awards will follow. The cost per player is $1200. To attend only the dinner and auction is $200 per person. Sponsorship levels for the golf outing are also available.
The ONS Foundation Golf Outing is the primary fundraising vehicle for the organization, which actively promotes sports injury prevention and conducts clinical research aimed at improving orthopaedic and neurosurgical procedures and standards.
ONS Foundation for Clinical Research and Education, Inc. is a registered not-for-profit, 501(c)3 organization devoted to understanding the causes and optimal treatments of orthopaedic injuries and musculoskeletal conditions. The ONS Foundation, in alliance with Greenwich Hospital, strives to improve standards of excellence for the treatment of musculoskeletal disorders through clinical research, physician and patient education, and community outreach programs. The Foundation is located at 6 Greenwich Office Park, 10 Valley Drive, Greenwich, CT. For further information call (203) 869-3131.
Pictured above: ONS Foundation Golf Outing Co-Chairs Vicki Leeds Tananbaum and Dr. Michael Clain