Internships
Research Interns
The ONSF strategic plan includes a research internship program that encourages applications from local students who have completed undergraduate studies and are in the process of applying to or have already been accepted into medical school. The Arthroscopy, Surgical Skills and Biomechanical Research Laboratory presents an ideal environment for these interns to have a first-hand experience in medical research. Their participation has proved invaluable to our research studies. Vishal Rana said, "Working with ONSF has been an incredible experience like none other…has undeniably peaked my interest in orthopedics and fueled my desire for a career in medicine."
Dr. Paul Sethi frequently describes the process of selecting a research study, securing its approval from the Institutional Review Board (IRV) at Greenwich Hospital, gathering the information, studying surgical techniques and evaluating patient treatment as arduous. After several years of study, the ultimate goal of having the research published in peer reviewed journals is realized. ONSF research interns play an important role in this process. Samantha Stuek noted that her experience was educational. She learned the method for writing "…a project proposal for an IRB approved study and to finalize a manuscript for submission… Working as a research assistant to Dr. Sethi was a career influencing experience."
In her first research project, intern Caileigh Dougherty worked closely with Dr. Sethi and Dr. Demetris Delos in order to create VuMedi videos used as educational surgical skills tools. She describes her time interning at ONSF as "…an incredibly rewarding experience and unique exposure to the medical field before I enter medical school." Vishal developed VuMedi videos for Dr. Mark Vitale that demonstrated the treatment of Dupuytren's Contracture utilizing non-surgical techniques.
Under the direction of Dr. Paul Sethi, interns Jared Gelbs and Chirag Sheth had an opportunity to learn the fine points of orthopedics, to observe doctor patient interaction, to conduct research and report
their findings, to attend medical conferences and create surgical instructional videos that are shared with other surgeons around the country on VuMedi, a surgeons' only website. Jared told us that this internship gave him, "…a unique opportunity to learn firsthand from expert physicians about many aspects of medicine and orthopedics." Through observation, both interns learned the importance of doctor/patient interaction. Chirag described it best when he wrote, "I learned that compassion and an open mind are as important as knowledge in delivering quality health care…these observations (proved) to me that medicine is an art and a science." Having an opportunity to observe surgeons like Dr. Sethi and Dr. Tim Greene enhanced Jared's internship and as he said, "…helped me learn what is involved in the decision making process of surgeons."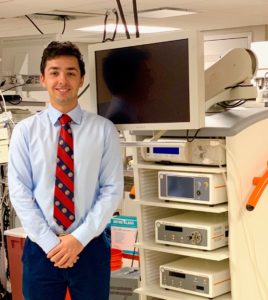 Nik Mandava, ONSF Research Intern, writes: After graduating from Cornell University, I started my research position at ONSF.   The only direction Dr. Paul Sethi gave me about what to expect was a start date and a word of advice: "Be ready!"
From day one, I immediately began working on a variety of different research projects – recruiting patients for pain management studies, conducting literature review on prospective projects, and even creating clavicle repair models in the lab to test the strength of different plate configurations. Meanwhile, I shadowed Dr. Sethi in the office and the OR and was involved every step of the way.  I am glad I was ready.
All of this has given me the experience I was searching for in my gap year. It has done more than given me publications to put on a resume; it has fostered a deep understanding of each project from start to finish. In addition, I gained valuable insight into the day-to-day life of a physician as I witnessed daily the interaction between doctors and patients.
This experience has supplemented my predominately academic education with real-world experience.  It has not only enhanced my love for medicine but also given me the professional skills needed for succeeding in medical school and eventually as a physician.
Research highlighted Chirag and Jared's internship experience at ONSF. One of the major studies involved the histology of rotator cuff tears. The team was involved in data collection and analyzing samples as well as assessing rotator cuff healing. Chirag reported that he learned the importance of proper documentation. He wrote, "I …learned the importance of communication within a research team through working with other members at a different location." Similarly, Jared "…learned a great deal about the process of transforming a research idea into a fully IRB (Institutional Review Board) approved research project." In 2014, this ONSF research was awarded 2nd place at the meeting of the American Orthopedic Society for Sports Medicine (AOSSM).
ONSF strives to make our lab, research program and patient care experiences a part of the intern learning process. We will continue to expand the program and to include a cross section of qualified college and post graduate students.
Summer Interns
Another element of the ONSF strategic plan emphasizes the importance of establishing an internship program for exceptional local students who demonstrate an interest in science, research and medicine. By exposing students to various aspects of the medical profession, we help them gain an appreciation of the commitment dedicated physicians make to their chosen fields and to their patients.
Each summer, college sophomores and juniors join us in short term research positions. Not only do they benefit greatly from participating in their assigned projects, but the physicians and staff also benefit from mentoring them. Projects are designed to complement the students' ages, level of education and experience. This is a pivotal experience for those students who are considering a career in medicine and would like to observe firsthand as well as for those others who would like to enhance their applications to medical school. Brad Schnabel described his experience as more than he originally imagined when he wrote, "I really enjoyed spending time with so many doctors who had such different backgrounds and were specialists in different fields." Before completing a research project, each student is assigned a mentor, participates in laboratory dissections and attends a bi-weekly conference. Intern Samantha Hill wrote, "The real-life medical experiences… reaffirmed my desire to pursue a medical degree (and) … provided me with an invaluable insight into possible career options as an orthopedic surgeon…"
At first, student Abhishek Hinduja was concerned that he would be faced with challenges he would be unable to meet. This insecurity was short lived and with the support of Dr. Sethi, Abhishek stayed for five weeks. When Chrissy Conroy was a student at Villanova, she participated in a five week ONSF internship "…an amazing experience and an opportunity to get firsthand experience in the field of orthopedics." She was extremely impressed with the program and expects it will flourish affording this opportunity to many other worthy students. Chrissy returned to ONSF as a full year research intern in 2014.
Georgetown University student, Jacqueline Fox, also wrote about her ONSF summer intern experience saying "…it was one of hands-on learning not only in the office but also through lab research and operating room participation." Research is a major part of the ONSF internship program. Dr. Sethi encouraged Jackie and others to use their time to read. In fact, she wrote that they read "…scores of journal articles to compile an academic paper that hopefully will be used in a scholarly publication."
Every aspect of the summer intern experience is designed to encourage students to pursue careers in medicine and to help the profession thrive. Jackie exemplifies this and wrote, "Time in the OR and cadaveric labs were invaluable in my decision to pursue medicine professionally."
At ONSF, the mentor-mentee model is a vital component of medical education. Whether we are teaching surgical skills to local or international orthopedic surgeons, welcoming interns into the research program, allowing pre-med and college students to serve as summer interns or conducting Mini-Med school for high school STEM program students, we succeed as mentors.