ONSF Unravels the Opioid Epidemic in Post-Surgical Patients
Current Research Projects
 In 2017, ONSF, within the realm of it research capability, pledged to combat the opiate epidemic by reducing and eventually eliminating the use of narcotics in post-surgical patients. We studied our habits, devised shoulder protocols, tested and measured the outcomes and established grassroots individual changes in prescribing methods. Approved by the Institutional Review Board at Greenwich Hospital, our data was recognized at national meetings and in prestigious peer-reviewed journals. In time, we expanded our efforts to include the knee.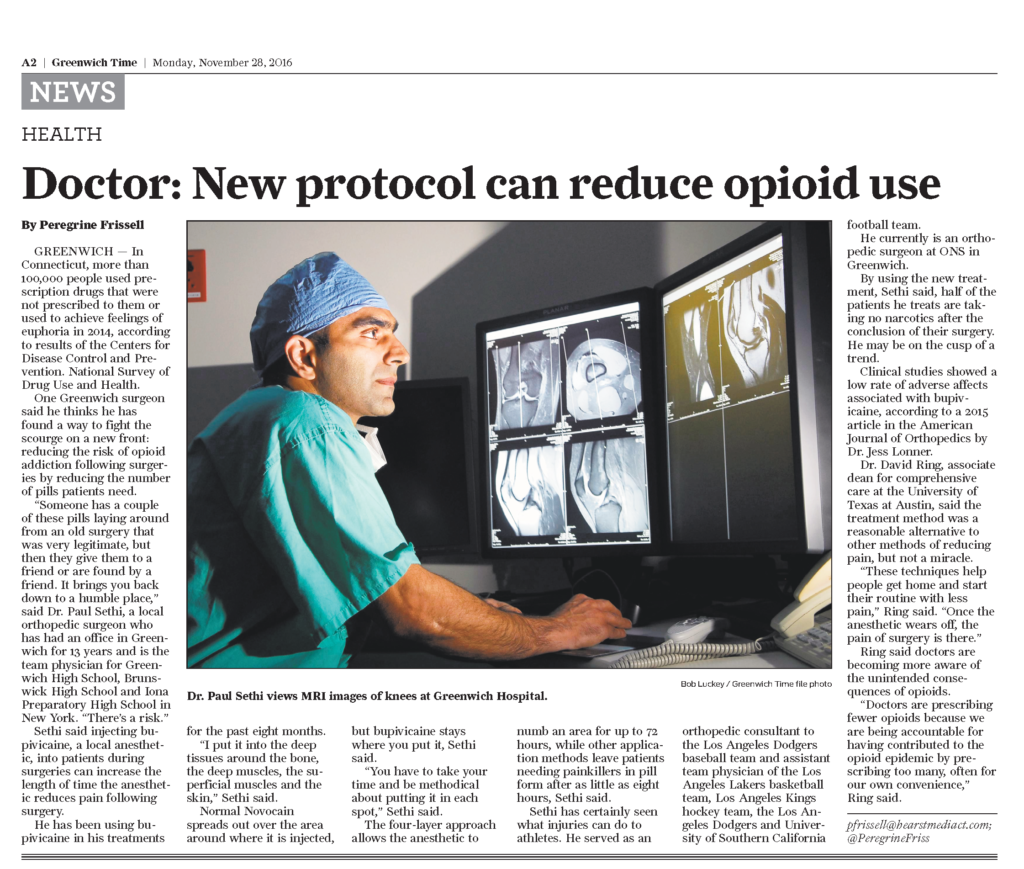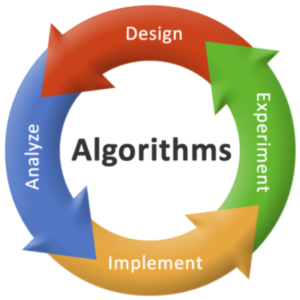 Throughout 2018, ONSF actively worked on algorithms to establish the appropriate amount of pain pills for a physician to prescribe for a surgical task. This data did not exist at the time. Today, we continue to educate doctors about the risks associated with opiates, how to better understand when to use these medications and how to have informed conversations with patients about pain and opiates. In the future we hope to develop blood tests to help determine which pain medications will work best for a given patient and which patients may be at high risk for addiction. Prior to announcing this research, Dr. Sethi said, "It is frightening, as a surgeon, to think that an opioid prescription intended to help a patient recover could lead to a lifelong battle with addiction…" 
ONSF saw the need to unravel this epidemic and has proudly moved ahead toward eliminating the problem through narcotic avoidance and/or opioid sparing surgery. The goal is not only to help patients, especially teens and athletes, to avoid the "first exposure" but also to minimize pain in surgery.
We successfully created the first published, evidence-based protocols… patients and our colleagues embraced it! 
ONSF OPIOID EPIDEMIC RESEARCH TIMELINE – 2017 – 2019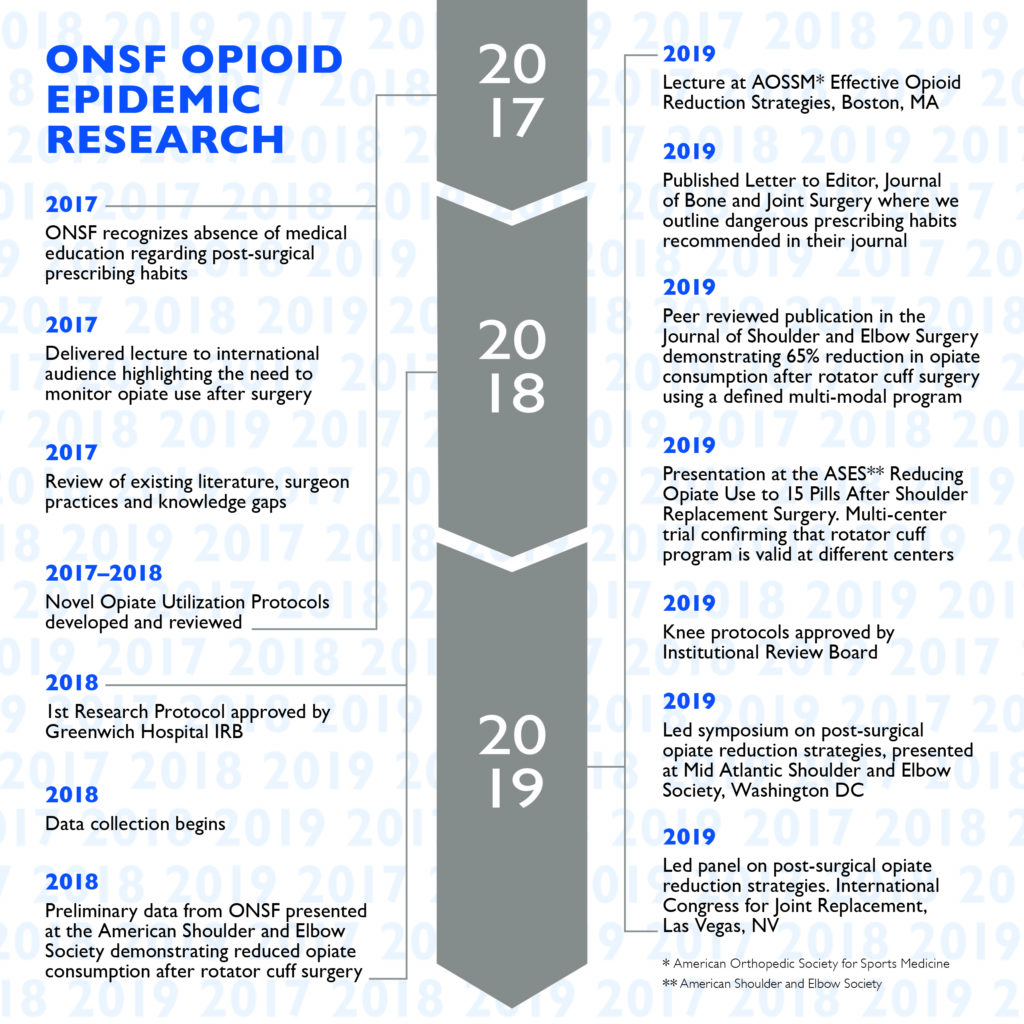 ONSF Opioid Research Update
Data related to the ONSF research project Unraveling the Opioid Crisis in Post-Surgical Patients significantly impacts how opiate medications may be used in the post-operative setting. The chart below, based on studies of three types of surgery – Rotator Cuff, Knee Arthroscopy and Shoulder Replacement, details the recommended number of pills to prescribe based on ONSF guidelines. According to Dr. Paul Sethi, President, ONSF, the  amount required is dramatically reduced – down from 43.8 million to 4.5 million.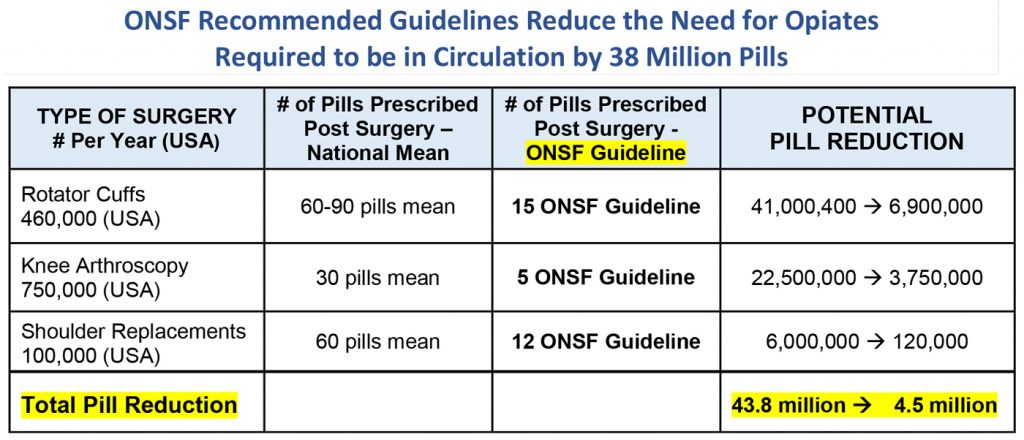 RELATED LINKS: 
2019 
Presentation to New Canaan Parent Support Group – December 2019 
2017 
Major ONSF Research Project Announced – Unraveling the Opioid Epidemic in Teens and Athletes – January 2017 
PUBLISHED ARTICLES

2020 
Opioid Use after Knee Arthroscopy – published in Arthroscopy, Sports Medicine and Rehabilitation — February 2020
An Evidence Driven Opioid Prescribing Guideline following Knee Arthroscopy and Anterior Cruciate Ligament Reconstruction – 2020
2019 
Liposonal Bupivacaine Reduces Opiate Consumption after Rotator Cuff Repair in Randomized Controlled Trial – published in the Journal of Shoulder and Elbow Surgery – April 2019
First Ever Evidenced Based Guideline for Opiate Prescription use after Rotator Cuff Surgery – published in the Journal of Shoulder and Elbow Surgery — April 2019
Less than Five Opioid Pills Required after Knee Arthroscopy – A Retrospective Analysis – 2019
Narcotic Usage Following Shoulder Arthroplasty is Low with the use of Multimodal Approach to Pain – 2019
Liposonal Bupivacaine Interscalene Nerve Block Offers No Advantage Compared to Standard Bupivacaine in the Management of Pain Following Arthroscopic Rotator Cuff Repair – 2019
Dangerous Opioid Prescribing Guidelines – February, 2019
PUBLISHED POSTERS 
Liposonal Bupivacaine Nerve Block Reduces Opioid Consumption after Rotator Cuff Repair – Poster 1
Liposonal Bupivacaine Nerve Block Reduces Opioid Consumption after Rotator Cuff Repair – Poster 2
Narcotic Usage Following Shoulder Arthroplasty is Low Using Multimodal Approach to Pain 
CONFERENCE VIDEOS
2019 Narcotic Avoidance in Shoulder and Sports Surgery – Dr. Paul Sethi
2018 Is Opioid Free Shoulder Surgery Possible – Dr. Marc Kowalsky
2017 The Opioid Crisis and Opioid Sparing Techniques in Surgery – Dr. Katie Vadasdi
2016 Minimizing the Use of Narcotics in Orthopedic Surgery – Dr. Paul Sethi 
Press Releases 
First Ever Evidenced Based Guideline for Opiate Prescription use after Rotator Cuff Surgery – April 30, 2019
Liposomal Bupivacaine Decreases Pain and Opioid Consumption After Rotator Cuff Repair – October, 2018
ONSF 5K Race to Stop the Opioid Epidemic