6th Annual ONSF 5K Run/Walk & Expo – RACE TO STOP THE OPIOID EPIDEMIC
6th Annual ONSF 5K Run/Walk & Expo – RACE TO STOP THE OPIOID EPIDEMIC
On Sunday, September 16th,ONSF held its 6TH Annual 5K Run/Walk & Expo – RACE TO STOP THE OPIOID EPIDEMIC.Runners, joggers, families with strollers and many children gathered at the Eastern Greenwich Civic Center, 90 Harding Road, Old Greenwich, CT for the 9:00 AM start. It was a beautiful day on the 5K course that proved to be challenging for the experienced runner and equally enjoyable for beginners.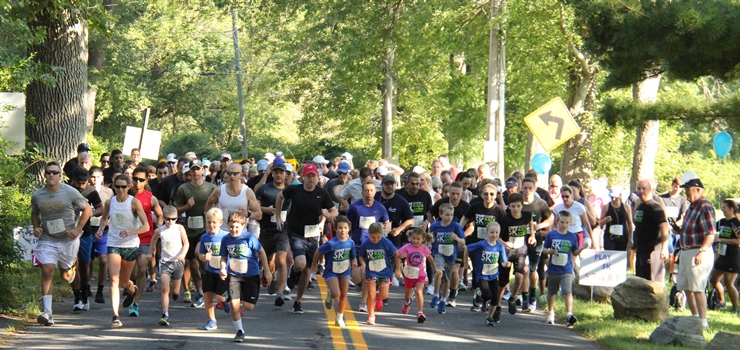 Prior to the race, athletes participated in a Warm-up Session under the direction of ONS PT Alexandra Ranieri. A Kids 0.5 Fun-Run warm up was supervised by Elite Health Services. All participants enjoyed the music by DJ Anthony Radice and the wonderful food and beverage selections compliments of Aux Delice. Among the Race Sponsors were Serendipity, Greenwich Hospital, CHASE, Granoff Architects, Houlihan Lawrence, Vineyard Vines, Tripp Lake Camp, Patriot Bank, Lile and John Gibbons, Camp Takajo, Greentree Toyota Danbury and other generous supporters.
Race participants were encouraged to bring their unused/expired prescription and over-the-counter medications to deposit in the drop-off box donated and supervised by the Greenwich Police Department.
Proceeds from the 6th Annual ONSF 5K will directly benefit the ONSF current research project UNRAVELING THE OPIOID EPIDEMIC IN POST-SURGICAL PATIENTS. Utilizing its nationally recognized skills, ONSF works diligently to unravel some of this country's opioid epidemic with specific emphasis on reducing and eventually eliminating the use of narcotics postoperatively. The Institutional Review Board at Greenwich Hospital has vetted and approved this study.