Vicki Leeds Tananbaum, Vice President
Professional Volunteer Fund Raiser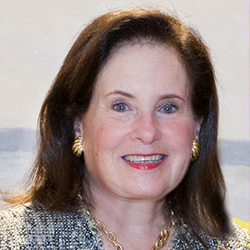 In 2007, Vicki, along with Dr. Sethi, founded ONSF. It was her commitment to medical research and education that led her toward establishing this organization. A volunteer fund raiser, she has served non-profit organizations and foundations since 1970. Over the years, her interests evolved to include medical research, education, the arts, and health and human services. She was recognized in 2006 by the YWCA of Greenwich for her commitment to the needs of others and received the Spirit of Greenwich Award.
Vicki founded the Maxwell Leeds Pediatric Tumor Foundation (currently known as the Pediatric Cancer Foundation) at Babies Hospital Columbia Presbyterian Medical Center, NY, in 1970 and served as President and Chairman until 1982. From 1985-1989, she served as a Greenwich Academy Trustee and co-chaired the Capital Campaign. After chairing the 1993, Bruce Museum Renaissance Ball, Vicki joined the Museum Board (1994-1997). It was as a member of the Board of the United Way of Greenwich, 2004-2007, that Vicki realized yet another dream – to meet the human service needs of others. As Chairman of the 2005-2006 United Way of Greenwich Campaign, she and the campaign committee raised the standards and broke previous records. In addition, Vicki chaired the 2000 Gala for Greenwich Hospital, an event whose proceeds launched the Breast Center at Greenwich Hospital, and the 2013 Gala benefitting the Emergency Department.
A graduate of Finch College, Vicki lives in Greenwich with her husband, Harold and has three adult children and five grandchildren. Her interests include golf, travel and theatre.