Tricia McDonough Ryan, PhD
Tricia McDonough Ryan, PhD
Pediatric Neuropsychologist Brain Injury and Sports Concussion Management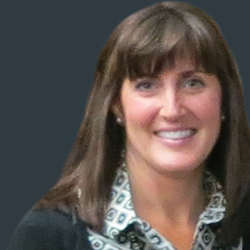 Dr. Tricia McDonough Ryan is a Traumatic Brain Injury and Sports Related Concussion Management Consultant to the ONS Foundation.  A practicing Pediatric Neuropsychologist, Dr. Ryan specializes in the diagnosis and treatment of traumatic brain injury (TBI) in children, adolescents, and young adults, with particular expertise in sports related concussions from young to professional level athletes.
Dr. Ryan completed her undergraduate education at Cornell University and Doctorate at University of Cincinnati. She completed her residency at the Atlanta VAMC, working with veterans who sustained a TBI. Her Post-Doctoral Fellowship was completed at Cincinnati Children's Hospital Medical Center and University of Cincinnati College of Medicine, where she specialized in pediatric neuropsychology.  She served on medical staff as an Assistant Professor of Pediatrics at Cincinnati Children's and led the Outpatient Neuro-Rehabilitation Program, focused on treatment for TBI, stroke, brain tumors and other neurological disease or trauma. She has worked on the concussion management team for the NFL Cincinnati Bengals, and serves as a neuropsychology consultant to various college teams, high school and club athletic programs. Dr. Ryan has been actively involved in research studies of neurodevelopmental toxins, serving as co-investigator on NIH funded grants measuring the Neurodevelopmental Late Effects of Radiation Therapy in Pediatric Brain Tumors and the Neurobehavioral Effects of Lead Exposure.
For the ONS Foundation, Dr. Ryan conducts concussion management education workshops and consultation for coaches, athletes, parents, and school personnel in an effort to raise awareness about the signs, symptoms and treatment of sports-related concussions.  Recent programs have been conducted in partnership with the NFL Alumni Association.