Paul Sethi, M.D., President
Orthopedic Surgeon, Orthopaedic and Neurosurgery Specialists, PC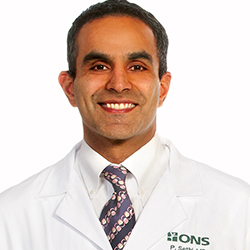 For the past eleven years, Dr. Sethi is a practicing orthopedic surgeon at Orthopaedic and Neurosurgical Specialists (ONS) in Greenwich, Connecticut. He graduated with honors from Cornell University, where he was an All-Ivy League varsity athlete.  Paul received his medical degree from Mount Sinai School of Medicine and completed an internship and residency at Yale University.  Paul finished a sports medicine fellowship at the prestigious Kerlan Jobe Orthopaedic Institute in Los Angeles, California where he was an assistant team physician for the Los Angeles Lakers basketball team, Los Angeles Kings hockey team, the Los Angeles Dodgers and the University of Southern California football team. Paul is Board-certified by the American Academy of Orthopaedic Surgery; he is a member of numerous sports medicine societies and is currently the team physician for Greenwich High School and Iona Preparatory High School.
Paul has published numerous book chapters and original articles in journals such as the Journal of Shoulder and Elbow Surgery, American Journal of Sports Medicine and Journal of Arthroscopy.  He has presented at numerous national and international meetings where he gives lectures and teaches orthopedic surgeons advanced arthroscopic surgical techniques.  Paul is a member of the faculty at Yale University School of Medicine, where he teaches residents the most advanced techniques in sports medicine.  He has also been elected to the prestigious American Shoulder and Elbow Society and the Association of Clinical Elbow and Shoulder Surgeons.
Paul's research on athletic performance, his studies on professional basketball players and his own experience as a varsity athlete have provided him with a unique perspective and invaluable first-hand experience.  He has described and published the newest methods for repairing the biceps tendon and triceps tendon and continues to work on new developments in shoulder surgery and sports medicine.