Joanna Schulman
Trustee of Leon Lowenstein Foundation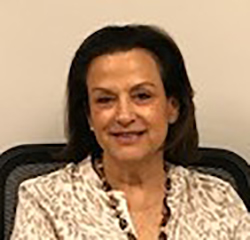 Joanna Schulman, a Trustee of the Leon Lowenstein Foundation, has been a dedicated supporter of ONSF (ONS Foundation for Clinical Research and Education, Inc.) since 2011. Her initial commitment was demonstrated when she became aware of the ONSF Arthroscopy, Surgical Skills and Biomechanical Research Laboratory and, along with the Leon Lowenstein Foundation, donated the funds needed for the Lab Conference Room. This gift confirmed her combined interest in medicine and education.
For years, The Lowenstein Foundation has made a commitment to health, education and the environment as demonstrated in their creating the Bendheim Cancer Center at Greenwich Hospital, refurbishing the Bendheim Western Greenwich Civic Center, upgrades to the Boys and Girls Club of Greenwich among other endeavors.
In addition to the Lab Conference Room, The Lowenstein Foundation and Joanna made it possible for ONSF to have the Hughston Auburn Rotational Testing (H.A.R.T.) device. The H.A.R.T. machine has made a sizeable contribution to ONSF's ability to test and analyze different fracture repairing methods. Because of this wonderful gift, our research has been published in numerous medical journals. An additional gift of cameras from The Lowenstein Foundation will enhance the H.A.R.T. machine efficiency.
Joanna is a member of the Board of Trustees at Endicott College. She lives in Greenwich with her husband, Ken, and their two grown children.