Angela Tammaro
Retired Athletic Director of Greenwich Academy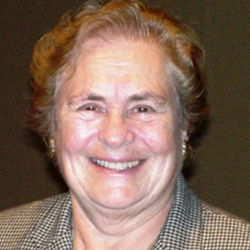 Angela Tammaro has dedicated her life and career to youth sports with an emphasis on sportsmanship.  She served as Greenwich Academy's athletic director, coach and mentor to hundreds of girls for more than four decades and during that time became one of the most successful high school coaches in the nation.  She accumulated 746 field hockey victories, 700 lacrosse wins and over 200 basketball wins.  In addition, G.A. teams won 29 FAA Field Hockey titles, 28 FAA in Lacrosse, 5 New England Field Hockey titles (5 runner up) and 8 NE Lacrosse titles.
She is a member of the National Field Hockey Coaches Association Hall of Fame, the Connecticut Field Hockey Hall of Fame and a recipient of the National Field Hockey Coach of the Year Award. Angela was also inducted into the U.S. Lacrosse Hall of Fame and Connecticut Lacrosse Hall of Fame.   In 2008, the Fairfield County Sports Commission named her as one of its Sports Persons of the Year.
After graduating from Boston University with a B.S. in Physical Education, Angela continued her studies at the University of Bridgeport where she earned a M.S. in Education.  She resides in Greenwich, travels extensively, is an avid golfer and runs a summer field hockey camp at Greenwich Academy.